Proactive vs Passive learning
Adults learn fastest when they take ownership of the learning process. Ability is not something you can easily absorb in a passive manner it is something you need to create in a proactive way.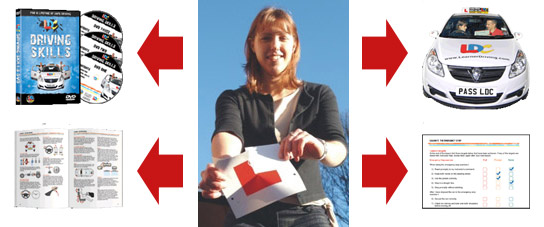 Too many driving instructors focus too much attention on telling their pupils what to do, what to think and criticizing ever little fault they make! This approach only fosters dependency, doubt and blind obedience as you passively wait for instructions. This method of learning is not only slower it does little to develop safe driving attitudes. The LDC 'student centred' approach on the other hand does, by encouraging self-reliance, confidence and responsibility resulting in safer drivers who learn to drive far more quickly.
This approach involves the student being encouraged to take more responsibility for their own development by using the LD System materials before and after each lesson and by using discovery learning with self determination and reflection; rather than being continually criticized and told what to do.
The idea behind the LD System is that you watch the video, do a quiz in the workbook and then put the lesson into practice. The workbook also contains a set of activities and targets for each practical lesson along with a reflective diary to help you consolidate your learning explore your progress and plan what you want to do next.
Bob explaining the approach
Below you can watch a video as Bob (the Centre Manager) introduces our unique approach to learning to drive to Danielle a new student. All of Danielle's actual driving lessons with Bob are available on our YouTube channel and will help you see LDC's unique student centred approach in practice.
If you are serious about wanting to pass first time, quickly and for the least amount of money then take ownership of the process with LDC's unique student centred learning approach and resources. Put your self in the driving seat in more ways than one. Take control of your own learning and ensure success happens by design not luck